Our Sky Pool in South Tyrol – dive into a sea of summits
Would you like to swim above all things? Feel earth, water, and sky at the same time? Our 25-metre long Sky Pool in South Tyrol is second to none and heated all year round (33⁰C). It is a true architectural marvel, floating above the mountain meadows, touching the horizon, and giving you an incomparable feeling of freedom. A feeling that you will never forget. A feeling that you want to experience again and again. Jump into the crystal-clear mountain spring water of our unique Sky Pool in South Tyrol, let yourself drift, and swim in the stunningly beautiful sea of peaks that is the Dolomites. We await you in our hotel in Olang.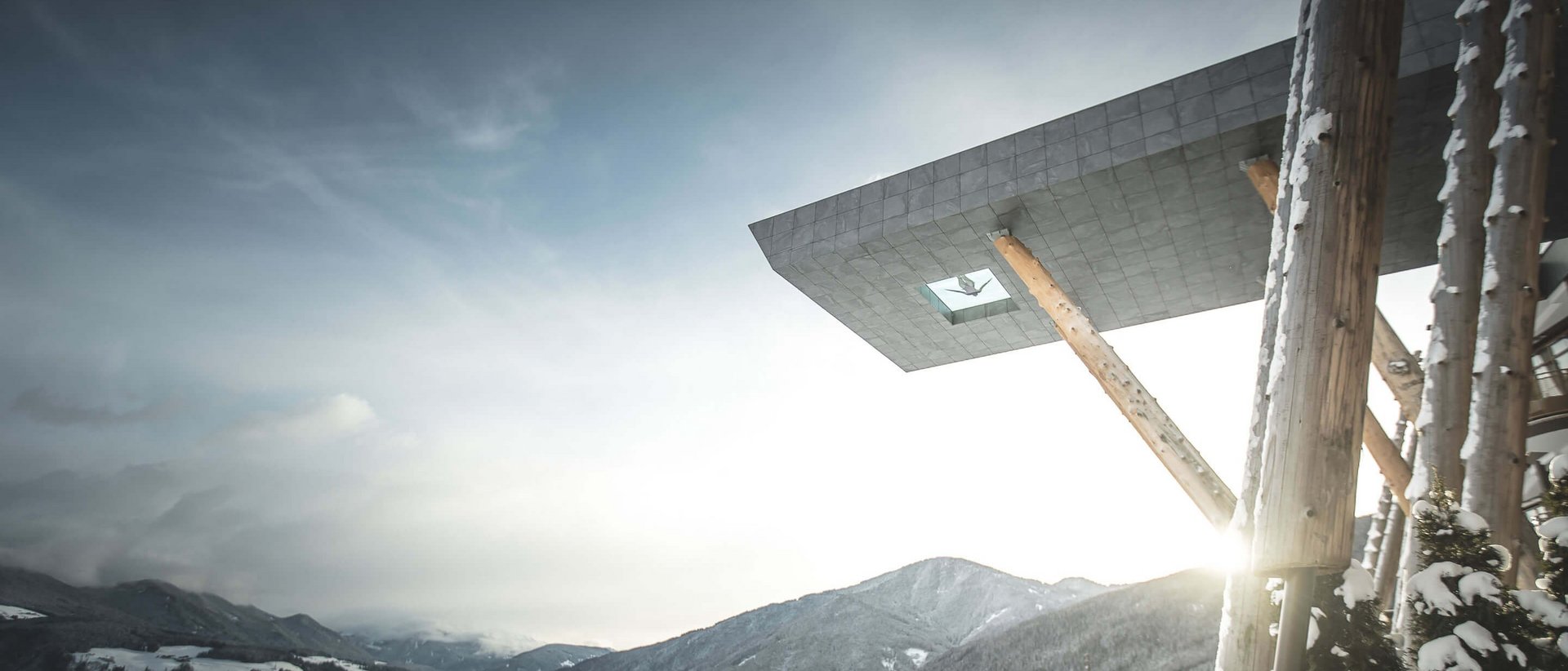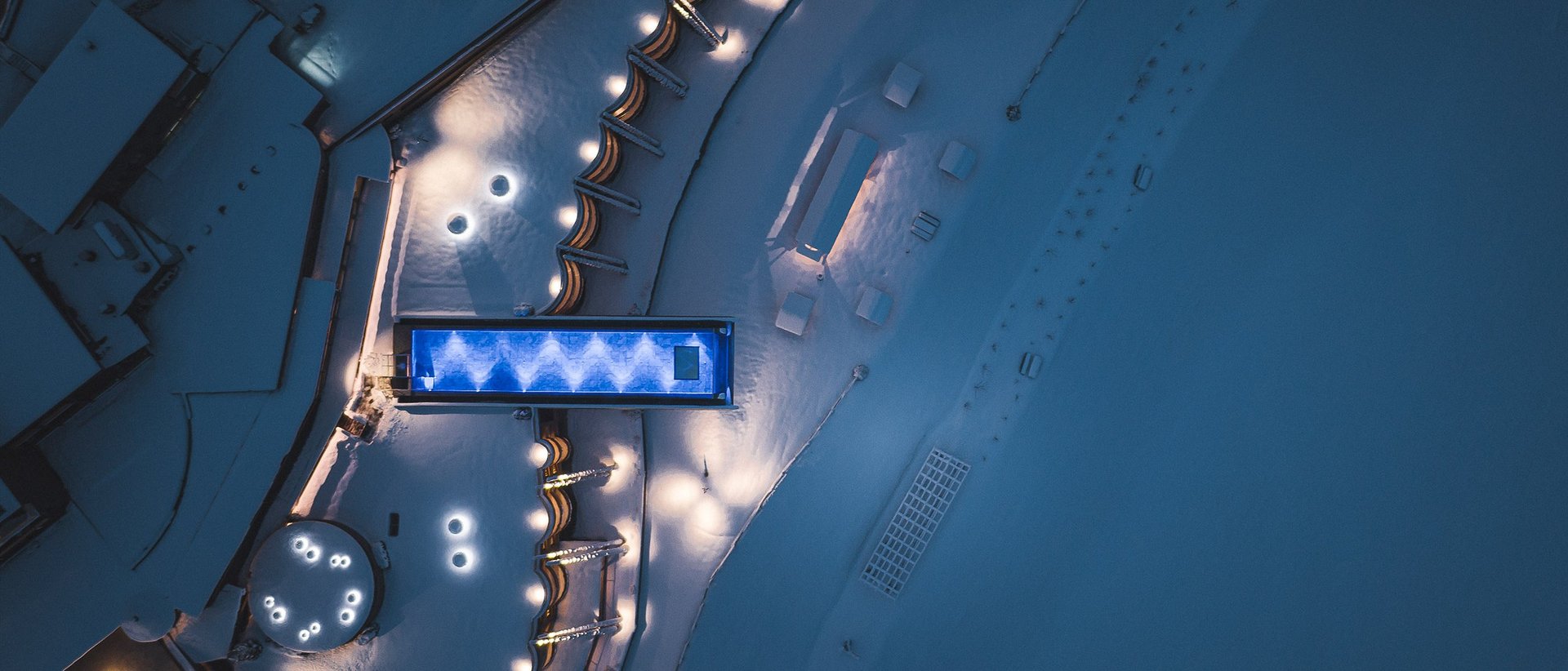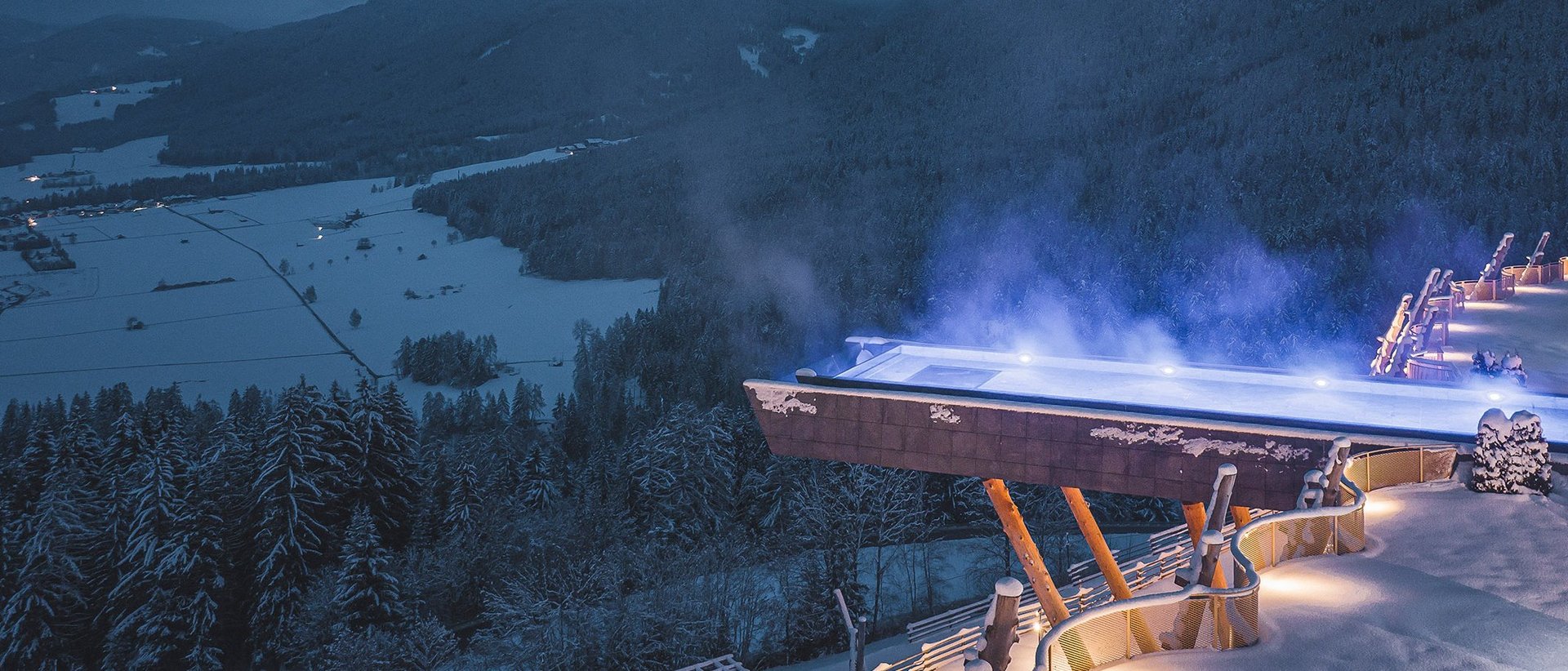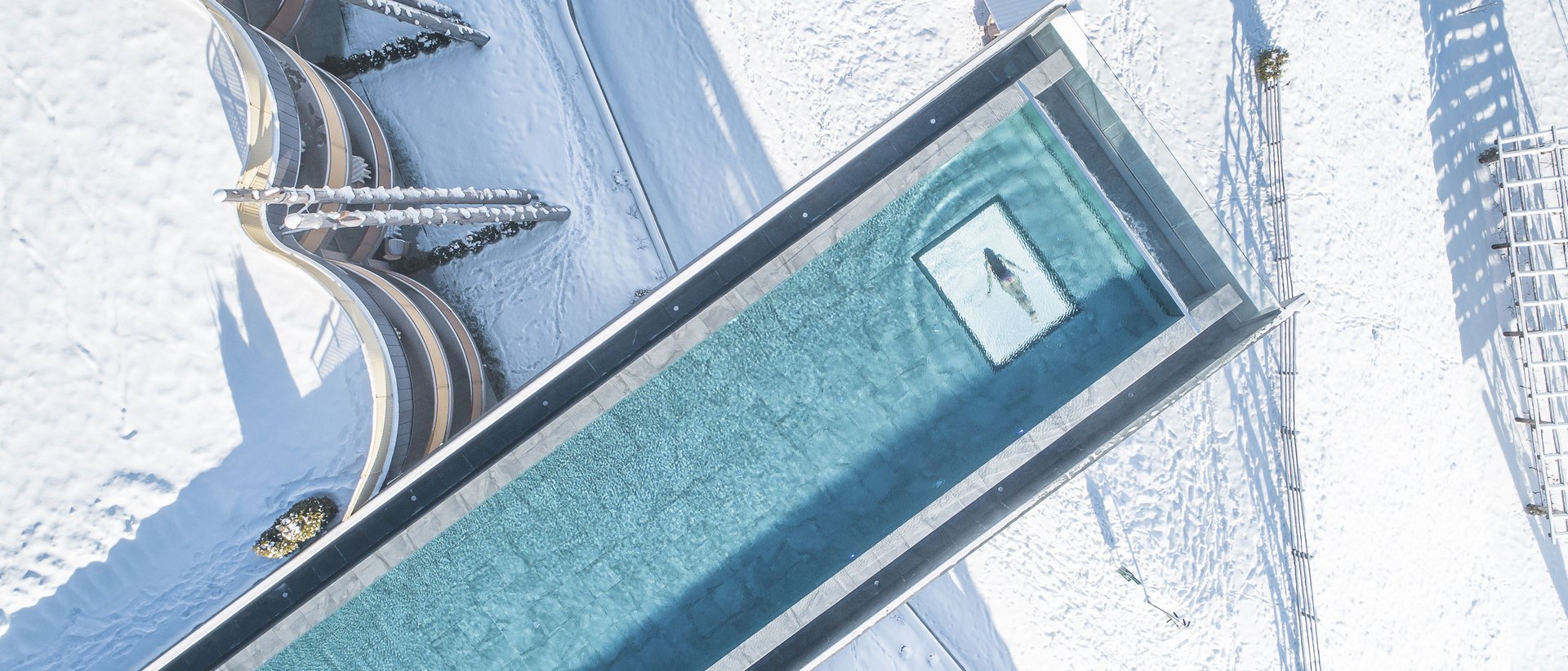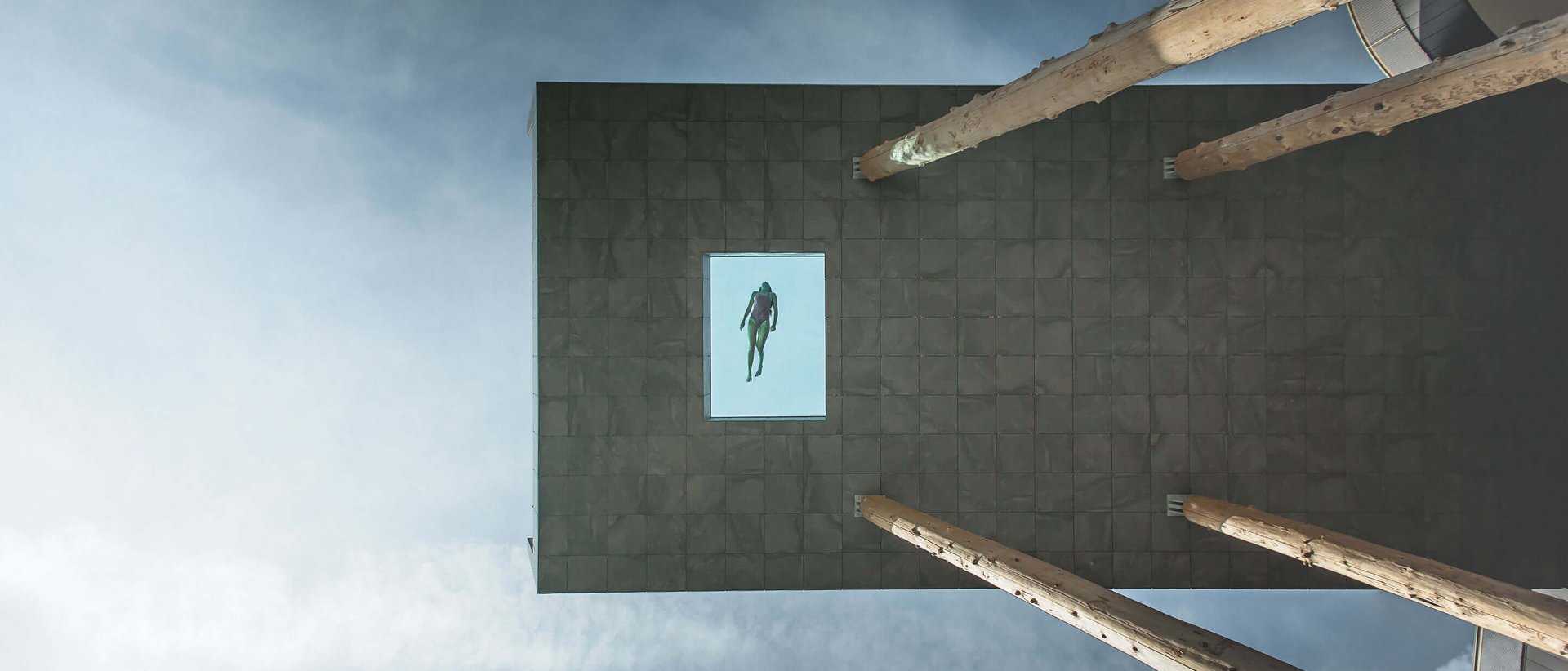 Between heaven and earth – our Sky Pool in South Tyrol
The unique Sky Pool in South Tyrol is the secret star that fills entire pages in lifestyle magazines and provides the perfect backdrop for Instagram posts. The idea for this extraordinary infinity pool in the Dolomites with a glass front came from senior host Christian Gasser. At a height of twelve metres, our Sky Pool, which is heated all year round and is unique in South Tyrol, spreads out like a wing in the unspoilt natural landscape. The water surface merges seamlessly with the impressive mountain world. Borders disappear, the view widens. The window in the floor of the Sky Pool in South Tyrol reveals new perspectives.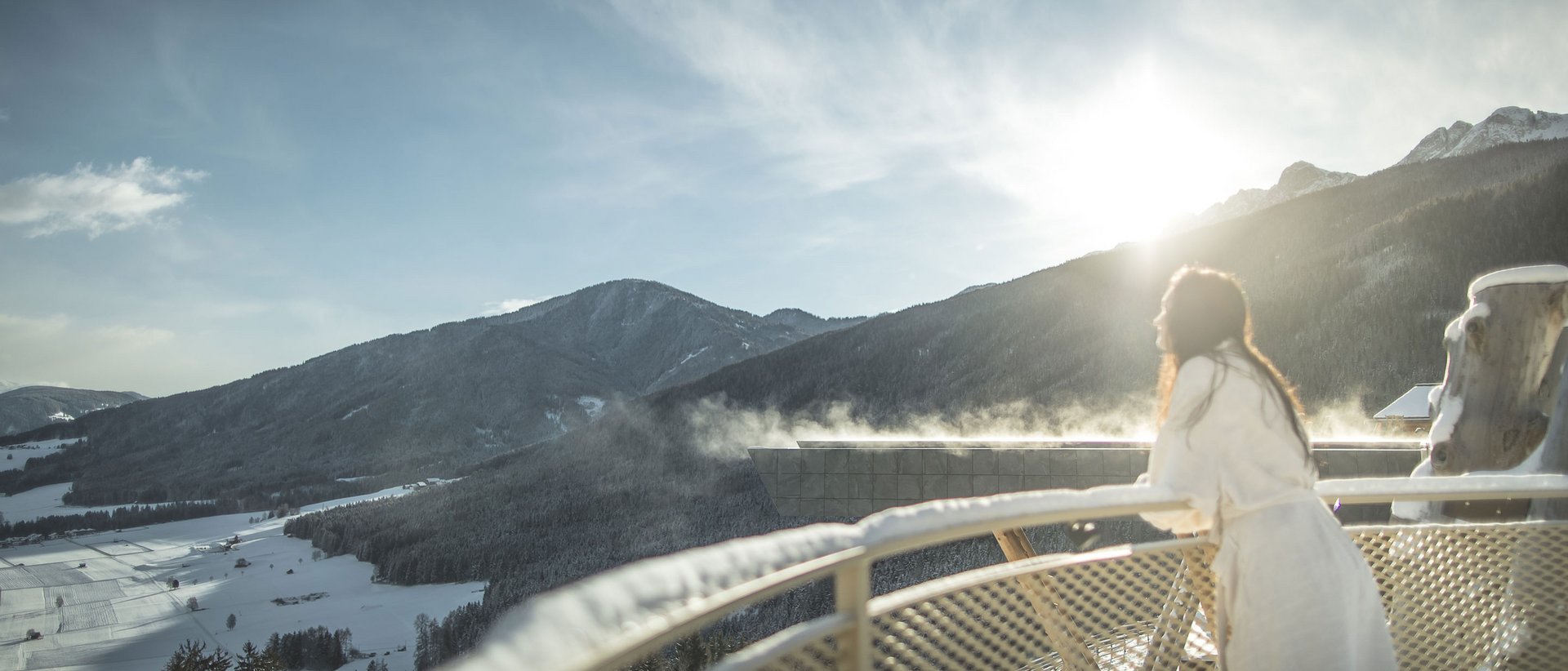 "Only those who explore and overcome their own limits will discover new horizons that enrich their life and provide them with different perspectives."
More than just an infinity pool: The Dolomites & the power of water
Water is life. Water is power. It gives shape to landscapes and mountains. Such as the Dolomites that rise majestically in front of our hotel in South Tyrol with infinity pool and watch over the unspoilt nature like silent witnesses. It almost seems as if you could touch the peaks when taking your laps in our Sky Pool in South Tyrol, which is reminiscent of a mysterious mountain lake. Can you feel the power of the mountains and the water?
In addition to our extravagant Sky Pool (33°C) in South Tyrol, five other pools await you:
the panormamic pool outdoor (33°C)
the relax whirlpool outdoor (37°C) with a dream view of the mountains
the saltwater pool outdoor (33°C)
the wonderfully warm outdoor whirlpool (37°C)
the sensory pool indoor (30°C)
Take a break and watch your troubles drift away in our hotel with infinity pool in South Tyrol!
Indoor sensory pool from 7.00 a.m. to 7.30 p.m.
Sky Pool outdoor in South Tyrol and panorama pool outdoor from 7.30 a.m. to 7.30 p.m.
Saltwater pool outdoor, relax-whirlpool outdoor and whirlpool outdoor from 10.00 a.m. to 7.30 p.m.
There is much to discover besides this Sky Pool in South Tyrol