Our saunas for admiring Plan de Corones/Kronplatz from first row
The Glorious Seven, the best way to boost your immune system
It's an open secret: regular sauna sessions are healthy. Toxins are eliminated and the immune system is strengthened. That's why we have not only built one sauna with the Plan de Corones/Kronplatz in view in our hotel in Olang, but nine of them.
Opening hours saunas indoor and Heaven & Hell: 11:00 am until 07.30 pm
Opening hours saunas outdoor: 02.00 pm until 07.30 pm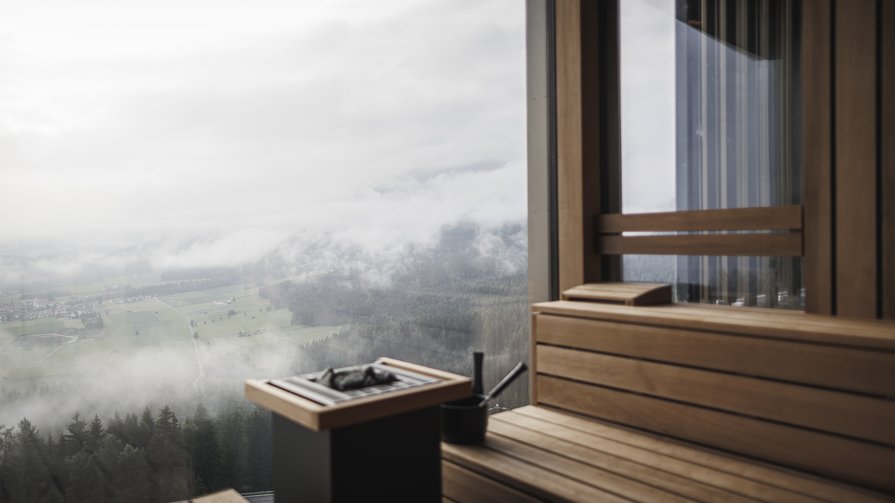 Hellishly good: new Heaven & Hell Sky Spa
The all new Sky Spa with the evocative name Heaven & Hell, an architectural masterwork that literally turns wellness upside down. You can look forward to heavenly hours of relaxation across two levels in three new whirlpools as well as hellishly good sweat sessions in the two new saunas. When it's time for cool refreshment, the ice room awaits. A walkway takes you from the new spa area to the relaxation room.
Take it easy: rooms for relaxation
When was the last time you got to enjoy peaceful relaxation? During your holiday with us, we give you the opportunity to focus entirely on the here and now. Retreat to our reading room with your favourite novel in hand or marvel at the impressive view of the mountains in front of our relaxation rooms.
There is so much to discover in our hotel in Olang