Holidays with dog in South Tyrol: a "furry" good time
They are your loyal companions and never leave your side – they bring you joy and happiness. We love our four-legged friends just as much as you do. And that's why we offer you holidays with your dog in South Tyrol in our hotel in Olang. After all, nobody wants to leave their furry friends at home during the most beautiful time of the year. Holidays with your dog in South Tyrol – that means lots of freedom in the endless expanses and unspoilt natural landscapes surrounding our wellness hotel in Val Pusteria/Pustertal. Treat yourself to a little break from everyday life with your four-legged friend and show them the great wide mountain world. You will see: A holiday with a dog in South Tyrol makes both animals and people happy.
Holidays with dog: South Tyrol, a paradise for man and dog
If you want to take your four-legged friend on a truly unforgettable walk, we recommend a holiday with your doggo in South Tyrol. Just one step out the door is enough to find the most unique adventure playground in the world: South Tyrol's boundless natural landscapes, where your four-legged friend can fully live out his natural urge to move and smell. Discover our unique mountain world during the holiday with your dog in South Tyrol and while hiking in the Plan de Corones/Kronplatz holiday region. Your dog will love to run on the lush green meadows and to quench his thirst in the cool mountain streams. But even on a winter holiday with your dog in South Tyrol there is no stopping the fun. The snowy winter wonderland is sure to enchant your four-legged friend. The best thing to do is to just book a holiday in South Tyrol with your dog right now.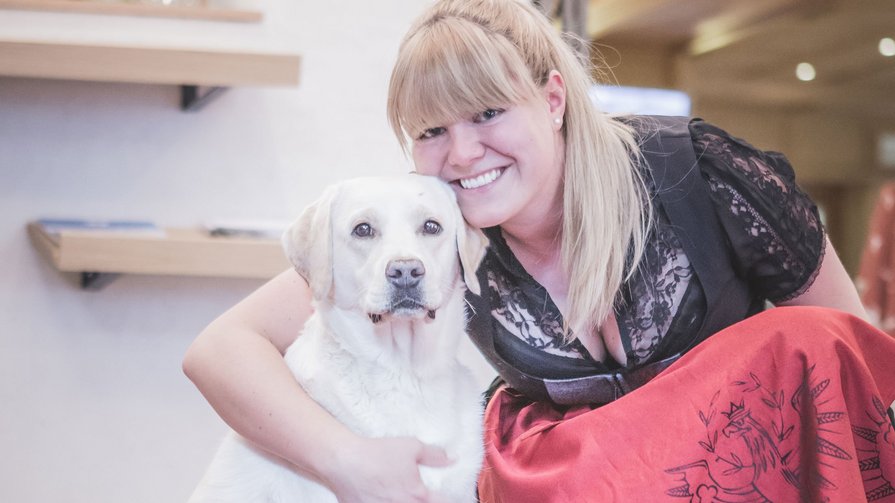 Our dog hotel in South Tyrol with many treats
The holiday with your dog in Val Pusteria/Pustertal is sure to be unforgettable. We guarantee this with our numerous inclusive services for humans and extra services for four-legged friends. For us, your dog is also part of the family, which is why we await them with:
Welcome set for pets with treats, one toy, and excrement bags in your room (for stays of at least 5 nights)
Time of room cleaning by arrangement with the chambermaid
Hubertus Park for walkies with dog toilet and free excrement bags (Leashes are compulsory.)
Guided hikes in which your dog can participate as well
More information about your holiday with dog in South Tyrol
A holiday with dog in South Tyrol costs € 25.00 per day (for reservations from December 2023 onwards - € 30.00 per day) for your pet. Although we have a big heart for animals, there are a few rules to follow when you are on holiday with your dog in South Tyrol. For example, we ask you to show consideration for other guests and to keep your pet on a leash throughout the hotel area. In addition, access to the dining and wellness areas as well as to the sunbathing area in the garden is not permitted. For legal reasons it is unfortunately not possible to transport your dog in our hotel bus. According to traffic regulations, dogs must be transported correctly and safely in the car.
There is so much to discover in our dog hotel in Val Pusteria